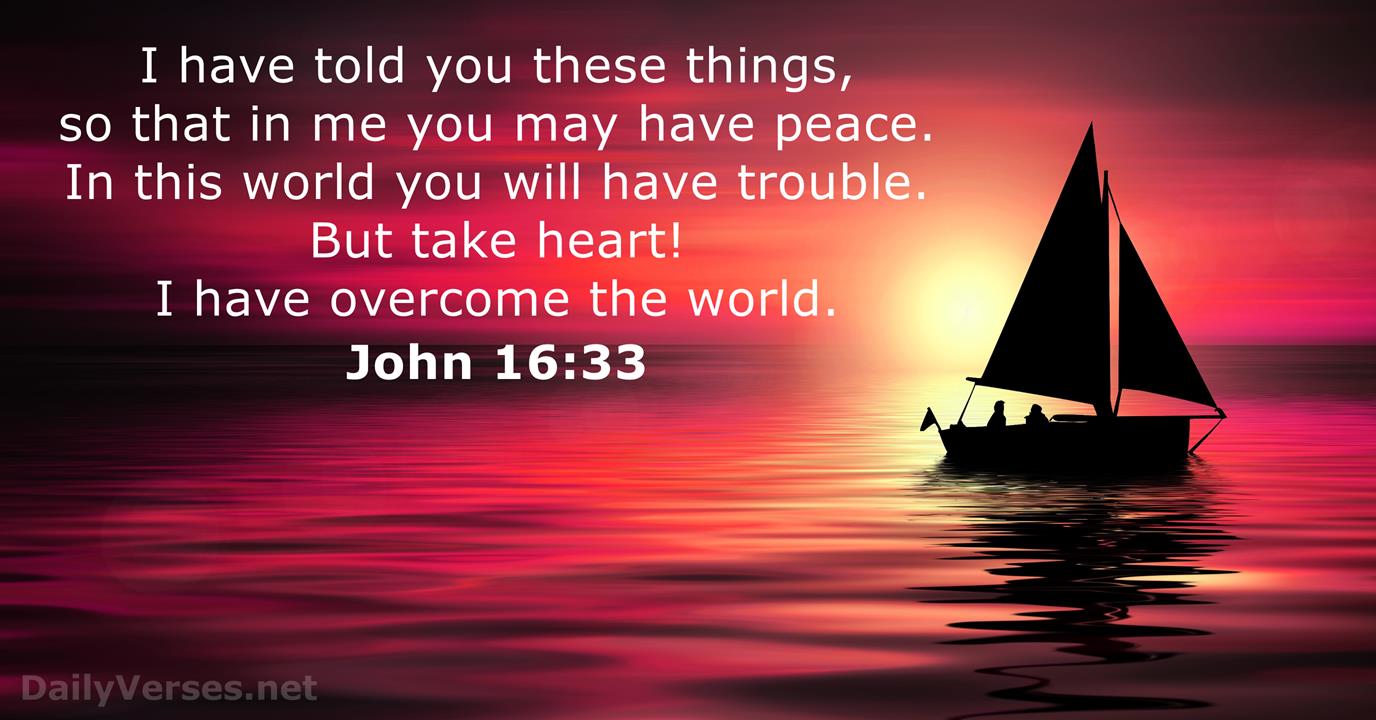 During 2020, one of the passages from the Bible that has really stuck with me from the beginning has been John 14-18, which is part of Jesus' last few hours with His disciples before His crucifixion. Many verses from this passage have been quoted across the centuries, especially as they speak about peace, which is something that has been sought for by humanity since the Fall of mankind.
But for this post I just want to focus on one verse, which comes at the end of John 16 after Jesus tells His disciples what they will face for the sake of the gospel. After telling them that He will leave and give them the Holy Spirit to comfort and guide them until He returns, He speaks of what they will face. And in light of what most people want, it's a bit of a rude awakening.
The majority of people today, including Christians, want to have an easy life. But of course, who doesn't want to have opportunities and wealth and perfect health and no troubles? It is what we all have wanted since the earth was cursed because of Adam's transgression. Because of sin, we do not have those things. Instead, we live in pain and misery. People struggle to make ends meet, to survive and get through health problems, who have dreams that will never be realized.
The beauty of the Gospel is that despite all that's wrong in the world, we have hope and peace in that we are redeemed from an eternity of being apart from God in hell.
The problem is that many Christians and even non-Christians think that being a Christian means no more difficulties in life.
But this is a grievous error.
"Jesus never said following Him would be comfort zone compatible. He just said He'd be with us."

Love Riot by Sara BarrattTweet
In a quote by Sara Barratt from her book, Love Riot, she says the truth that Scripture presents. Being a Christian is never easy. We are free from the bondage of sin and now can choose, through the grace of God, to not sin. But we still struggle with sin. We are still living in a fallen world. And the world, because it hated Christ, will hate us because we are God's Children. Yet the good news is that Jesus will be with us because He has redeemed us as His own.
Many Bible scholars and theologians have said that the Gospel of John is the most tender out of all the Gospels. Truly its language is one of the the most beautiful out of all the books in the New Testament. But this verse, especially, highlights the glorious hope of what it means to be a Child of God.
"I have said these things to you, that in Me you may have peace. In the world you will have tribulation. But take heart; I have overcome the world."

John 16:33Tweet
Before this verse, Jesus speaks of the persecution we will face because of Him, and yet He also says that God will be with is. Like the verse begins, "I have said these things to you;" this refers to all that He has said before. But He continues with, "that IN ME you may have PEACE." (Emphasis my own). The world is full of chaos, anyone can agree to that regardless of their faith or religion. And everyone wants peace. Especially as someone who struggles with anxiety, I can tell you that the one thing I want more than anything else is peace. And that peace can only be found in Christ and in Christ alone.
"Peace I leave with you; my peace I give to you. Not as the world gives do I give to you. Let not your hearts be troubled, neither let them be afraid."

John 14:27Tweet
Jesus Christ knows what we will face for His name. This is why He says that we will have tribulation in the world because of Him. As Christians, hostility is unescapable. Whether you live in a country where there is actual persecution or even in America, which hasn't yet come to that point though she is on her way, you will face hostility as a Christian. Whether it's being made fun of or debated against, or even more serious, it is inevitable. The world hates God. Because we are His redeemed children, we will also be hated.
The good news is, Christ has paid the debt for sin and defeated death. "Take heart! I have overcome the world." We don't have to fear what the world can do to us because Christ has already borne the wrath of God for our sin and has defeated the Enemy of this world. As Christians, we can be secure in the truth that we are God's and no one can snatch us away from Him. We can, as the Gospel says, take heart, because Jesus has already conquered the only thing we can be afraid of. He has stood in our place and taken God's wrath for us. Why would we fear the world when we can rest in the Hands of the One who created the world and who will not fail to hold us secure in His unfailing love?
This is why I love this passage. In all that has happened this year, it has been a beautiful thing to hold to, a precious reminder that despite all that we will face, whether hardship or persecution, that we can take heart or, as some translations say, "be of good cheer," for Christ has overcome the world!